Welcome to the third post in my how-to-book series! Today, I'm showcasing the lovely team at Roadshow DJ's.
I've lost count of how many weddings we've done together over the years, but our relationship goes back at least 7 or 8 years if not longer! We tend to do many of our signature big and beautfiul European weddings together. My gosh I love them!
Below is the lovely Adriana (Director) and DJ Phil (Client Events Manager) exhibiting at the Caversham House Open Day a couple of months ago. They were showing off their purple lighting too!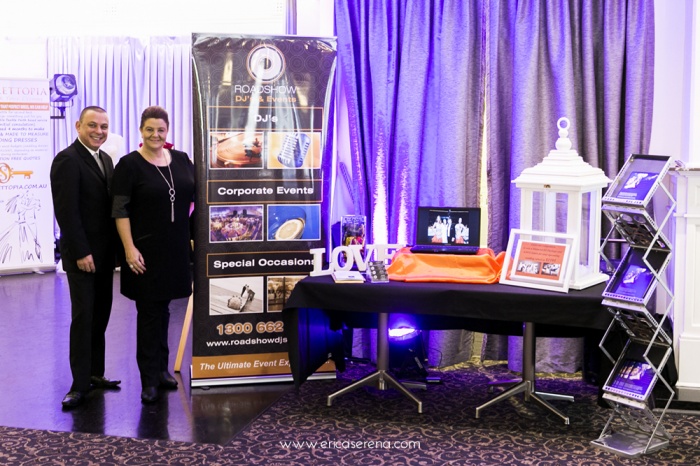 Here's some great advice they have to offer for Couples about to embark in searching and choosing their wedding DJ.
Tip 1) When selecting your DJ, make sure s/he is familiar with the venue your wedding is taking place at. Ideally, they would have had experience at that venue. Also make sure your venue recommends his or her services!

Tip 2) A great DJ isn't just about the music, but also how well they interact with the guests, how they conduct the evening, and how they can liaise with staff at the venue, as well as all of the other service providers to ensure a fantastic and smooth event.

Tip 3) Your DJ should be able to walk you through the procedures of the evening and put your mind at ease as to how they will lead, so that all the planning you have worked on for months or years runs smoothly on the night.

Tip 4) Presentation is also a key factor. All of our DJs take great pride in their dress code which is always formal ( e.g. suit & tie )

Tip 5) Please also make sure the DJ for your event is reliable and that there is a fullproof plan in case of emergencies.
So there you are! Some simple, yet very important tips on how to go about choosing your wedding DJ. Perhaps you might like to stop by their webpage here for more information or to get in touch with them. Let them know I sent you 🙂
THANK YOU FOR STOPPING BY! WE WOULD LOVE FOR YOU TO SHARE THIS POST WITH ANYONE YOU FEEL MAY BE INTERESTED. WE WELCOME COMMENST AND QUESTIONS!
Since you're here, why not check out the other posts on this how-to-book blog post series?
How to book your wedding photographer
How to book your wedding venue
How to book your wedding planner
——————–
Bianca & JR – Feb 2014 – here's a gorgeous wedding we had together earlier this year