The wedding ceremony is an extremely important part of the wedding (of course!) where us photographers have very little control as to how it unfolds. We are simply there to document it, and be as discreet as possible, whilst getting the best images we can for the Bride and Groom.
I thought I would show you what I think a perfect wedding ceremony looks like, and list a few tips on what I feel works really well, and what doesn't work so well.
Firstly, ever heard of an unplugged wedding? Put simply, an unplugged wedding is where the Bride and Groom ask their guests to turn off all devices such as cameras and phones during the ceremony. The main reason for this? It's because they want their guests to be truly present and involved, as well as enjoy the ceremony, and not be too busy and distracted by recording the event.
You can read more about unplugged weddings here.
Tania & Michael chose to have an unplugged ceremony. I LOVED IT!!!! And I hope more and more of my Couples choose to hold their ceremonies this way too! I loved all the smiling faces of their guests as Tania and her Dad walked down the aisle to meet Michael.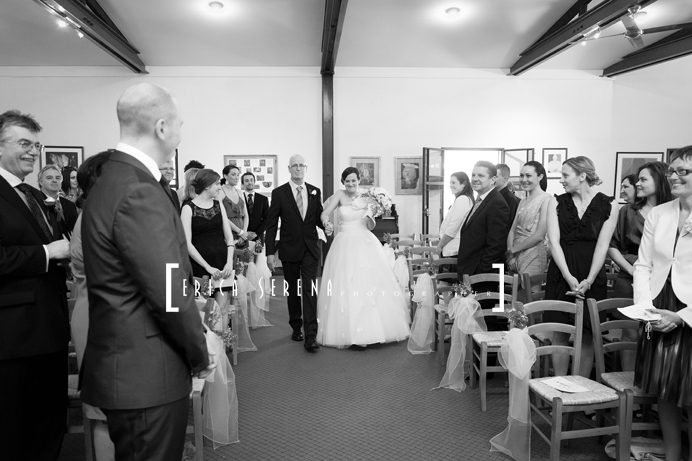 There were no cameras, iPads or phones in sight that blocked my shot of Tania feeling so emotional. Instead of backs and sides of people and their devices hanging out of the pews and spilling into the aisle, we get to see Tania and her Dad, and all their guest's beautiful faces. You can see they were really enjoying the moment.
I also love that we were able to get beautiful, emotive and heartfelt images of their parents shedding happy tears, and capture smiles of joy and pride.
There are 2 more elements, which I feel are important to getting beautiful images during your ceremony. One, is having your officiant use a lapel microphone, as opposed to those big, black hand held ones. They really don't look great in photos when exchanging vows in my opinion. There is no discreet way to try to hide them! A lapel mic is much, much more discreet and professional looking. If you are hiring a videographer, they will undoubtedly have this set up for the best sound. However, if you're not having one, this is something worth mentioning to your celebrant or priest, and finding out what they use. The fewer objects surrounding you during the ceremony, the better. With the exception of beautiful décor of course!
The last element to consider for fabulous wedding ceremony photos, is how your guests will greet you and congratulate you once you've been announced as Mr & Mrs. Quite often, for church services, Couples will hug and kiss their immediate family members on the way down the aisle. Although I love the idea of it, and I see why Couples would choose to do this, I will admit it makes it very tricky to get good shots of these special moments. Even with 2 photographers positioned on opposite sides!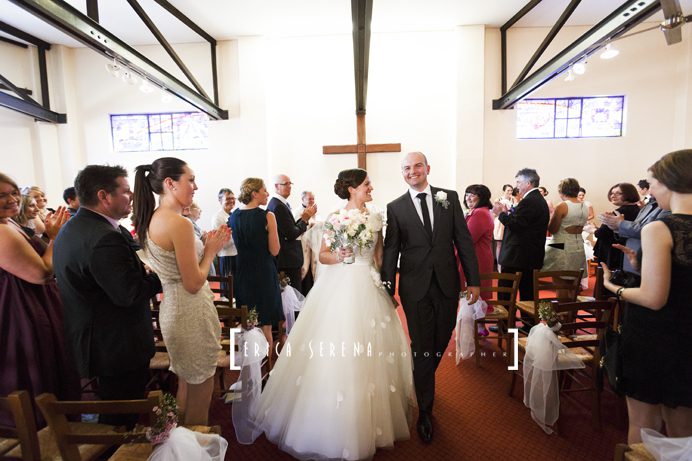 It's difficult to get a photo of each person you're hugging (usually Mums, Dads, Siblings and Grandparents) simply because your guests are standing and clapping at this point, and we are limited to how much we can move due to the pews and many shoulders surrounding us. Generally what happens after this point is that the Bride and Groom make their way down the aisle, where we can get some great shots of the newly married Couple. However, since your immediate family would have already congratulated you, it is unlikely they will do so again once you've exited the church. (Tania and Michael saved their congratulations for after they walked out of teh church)
Sometimes I have Couples who don't even walk down the aisle at all. This more so applies to outdoor ceremonies. The celebrant will announce you as Mr & Mrs, and then instead of having that gorgeous walk down the aisle, your celebrant may invite all your guests to congratulate you right there. There's no problems in getting great shots with this type of set up, but I do think it's a shame to not have 'walking down the aisle as a newly married Couple' shots. It's probably one of my favourite photo opportunities of the wedding!
So, hopefully my little ramblings have given you something to think about when planning your ceremony…. And maybe wedding in general. As much as it sounds like a cliché, your wedding photos are forever… Happy planning, and feel free to ask any questions in the comment boxes below!
Erica 🙂